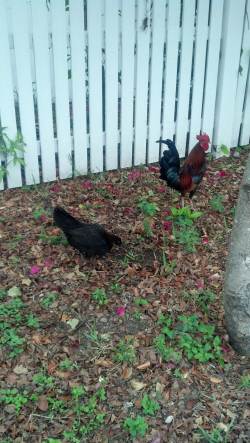 Key West was a ton of fun! The drive down was one of the most gorgeous drives I have ever seen. I kept wanting to stop the car and just view the scenery. The island itself was pretty nice as well. They had a ton of chickens running around and also a lot of tourists. The parking was difficult, even for Mandelbrot, but I was finally able to find parking and walk around the town.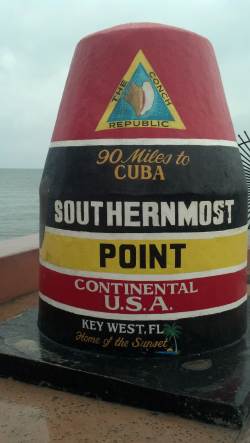 After about 1 hour or so of walking I was already fairly familiar with most of town and was able to give some tourists directions. I also found the southernmost point of the continental US which was fun and I also found Hemingway's house. The only issue with the town was the lack of restrooms. Everywhere required that you be a customer in order to use the bathroom. Not so fun... Although it did force me to go to a bar called the sugary shack and sit and have a cup of tea with the owner. And yes, I did have a cup of hot tea in a bar.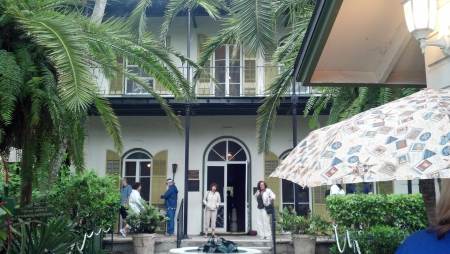 Of course you can't go to Key West and not have some key lime pie! So even though I'm not all to fond of pies, I decided to try one at Kermit's Key Lime Pie store. The pie was super nommy. It wasn't fully my cup of tea, but it was still pretty good. In order to have something more substantial I also went to Paseo which is a Carribean grill. It was probably some of the best food I'd had in a while. I had roasted corn which was covered in butter, spices and parmesan cheese making it just melt in your mouth. I also had the roasted pork shoulder sandwich (the #2). The sandwich is officially my 3rd favorite sandwich shop (after izzies in SF and Zia's in Davis). It was delicious to no end. And if the key lime pie wasn't enough I also treated myself to a second helping of dessert at Kilwin's which I had never heard of. Apparently they are a company out of Michigan that makes good chocolate. Not the best I've ever had, but it helped satisfy my sweet tooth.
While there I also tried to check out the fort, but due to time I ended up not going, but from what I hear it is epic. From the map it looked like a massive park that you can just spend all day in. My biggest issue was the \$2.50 entrance fee. Kind of killed me to think that it cost \$2.50 to walk around a park when I could walk around the rest of town and have just as much fun. Maybe next time.