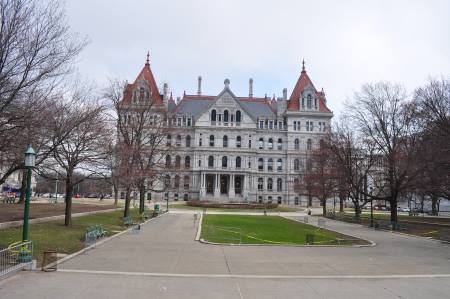 Albany is of course the capitol of New York! Their capitol was amazing. Not only is it currently valued at over \$2,000,000,000 (yes, billion) which is two times more than the US capitol, but it has a staircase inside that is called the million dollar staircase. The staircase was carved out of stone and looked gorgeous. The architect of the building at the time let the stone-carvers have free range with what they wanted to put into the staircase so there are portraits of over 1,000 people scattered throughout the staircase. It's so cool! And the capitol itself had 5 different architects. So as you walk through the capitol building you quickly notice that each section looks different than other sections. It was so weird seeing styles change so quickly inside the same building. This capitol was definitely one of my favorites!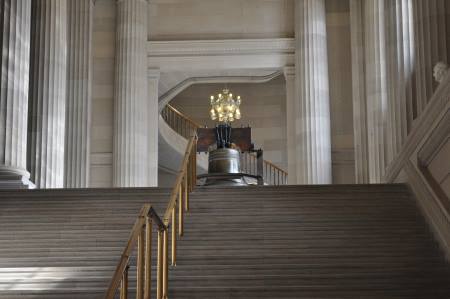 The liberty bell was a little harder to find unfortunately. It was located in the Education building which was across the street. Kind of fun to find.
While I was in Albany I got a recommendation from one of my brother's mom who said I should check out Jack's Oyster House for lunch. Apparently a lot of dignitaries and famous people went there. I decided to test it out and got a manhattan clam chowder, grilled salmon, and new york cheesecake. The clam chowder was pretty good. They have red sauce instead of white which was weird, but still tasted good. The salmon was fairly standard, but still delish. The cheesecake was pretty good and fun eating it. It oddly didn't even cost too much either! I recommend it to anyone who is in town.
While in town I also walked around Washington park which was a gorgeous walk. There was still snow in certain places since it was snowing that day. The park was fairly dead, but it looked like it would be fun during a summer's day.