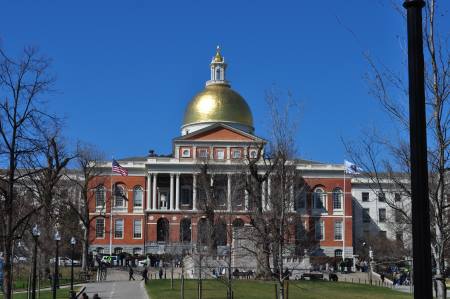 One of the first things I did when I got to Boston was go and see the state capitol building. They had a random person protesting something outside (I think it was gun control) but I wasn't fully paying attention and quickly walked my way through the General Hooker entrance of the state capitol and found the tour desk. The tour desk wasn't having a tour for a while so I opted for a self-guided tour. Their capitol looked like it was starting to fall apart and wasn't that impressive. Not only that but the employees of the information desk weren't very informed. They thought that Massachusetts had the oldest running capitol building, but I'm pretty sure Delaware said the same thing. When I mentioned that they said that they could be wrong about that. I feel like you should know that.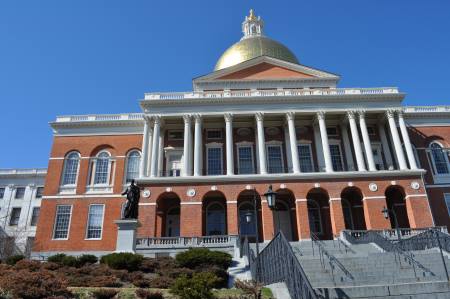 Not only did they not know their own history properly they didn't even know about the liberty bell. There were three people behind the desk (one was on the phone) and I asked them where I could find the liberty bell. One of them looked at me confused and replied back with 'in Philadelphia'. I proceeded to tell her that I was referring to the one that was given to each governor in the 1950's. She looked at me like I was going crazy and turned to the other person who said he had never heard about that. Luckily a few seconds later the person on the phone ended his call and responded back that it was right behind them. Yes, the liberty bell was quite literally right outside the window that they were standing behind. I hadn't seen it cause it was behind a pillar, but I feel like the employees should have seen it. I wasn't allowed to get close to take a picture of it, but you can just make it out in the picture above. Look in the second arch on the left and you can see the top wooden part of the liberty bell. I still consider it found!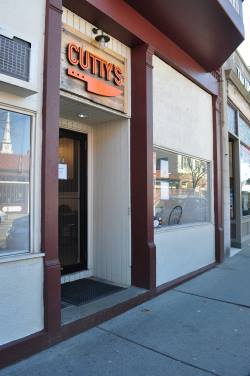 After the mess at the state house I decided to walk over to Paul Revere's house which was the biggest waste of time. While I was walking through it felt pointless going through someone's house who had done (in my opinion) fairly little. Sure he warned us that the British were coming by sea, but I feel like anyone during that time who was given that responsibility would have carried it out epically. Just seems random I guess. Anyway, afterward I went and had lunch at a place called Cutty's which had amazing sandwiches! They officially bumped the New York place from 4th to 5th and took its place. I had the Greens Shallot sandwich which was to die for. My mouth could not stop eating it. So nommy! I thank my mother for this recommendation. That night I met up with Jon Dobres who is a brother from the Alpha Chi chapter and we went to Sunset Grill for dinner. I got the shrimp fajita which was oddly good considering we were nowhere near Mexico.
The next day I went to the MIT museum which was a lot of fun. They had some really cool exhibits. They even had one on slide rulers! On the second floor they had an exhibit on gestural engineering which was phenomenal and also a photography section which was pretty cool. It was totally worth visiting and I would definitely go again. I also walked around MIT and even walked into the Math department although I got really scared and ran away quickly. I'm afraid of genius apparently. Afterward I went to Durgin Park which is supposed to have the best clam chowder in New England. Since New England clam chowder is San Francisco's competitor I decided to try it. It tasted horrid. I didn't understand how people could enjoy it! Never eating New England clam chowder again. Epic failness. Afterward I went to Neptune Oyster where I decided to try my first oyster ever. I don't remember what kind I got cause the bartender gave it to me, but it tasted ok. I don't know what it's supposed to taste like so I don't have a comparison, but I decided that oysters aren't really for me. But you have to try everything once right? I randomly walked around and ran into Newbury comics which was a phenomenal store! I decided that if I lived in town it would probably be my hangout spot. I also walked to Mike's pastry and ordered an oreo canolli. They are known for their canollis and I truthfully wasn't impressed. I thought the one I had in New Orleans was significantly better. I thus left unsatisfied and continued my trek.
I eventually walked myself out and headed back to Jon's apartment where we met up with Bryan Guffey who is a brother I've known forever! We met up and went out to have italian food at Carlo's Cucina Italiana. I ended up having the Linguine con Gamberoni which was alright. Bryan had the Fusilli con Salsiccia \& Broccoli Rabe which was my second choice and was epic delicious. I was torn that I hadn't gone with that option, but that is how life works sometimes. Afterward we went to Dante's frozen yogurt for some delicious frozen yogurt. I had peanut butter mixed with cheesecake. So good.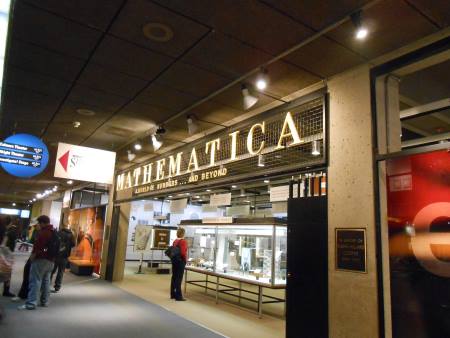 The next day I went to the Museum of Science which was a lot of fun. They had two, yes TWO, exhibits on math! I stayed in the Mathematica exhibit for at least 1.5 hours which was super fun. I walked around the museum endlessely. It was so much fun! They had a fun computer's section where we got to play around with different computer concepts and a pretty mean arse electricity show. Super fun to be there. Afterward I had to rush to meet Bryan in order to pick up the keys to Jon's place cause Bryan had borrowed them. After getting the keys I waited for the bus in order to go to Jon's house to return them. After waiting an hour for a bus that normally comes every 10 minutes I got tired and took the subway. Normally the T was amazing (They call the metro the T) but in this one case it was a disaster. It took an hour and forty minutes for a journey that should have taken 30 minutes. Not very fun. After I got back to Jon's I rested for a little before we trekked out to Tau house which is the place that most of the brothers from Alpha Chi chapter live. We went there for their a fraternity event which turned out to be a blast!
The next day Jon joined me and we went to The paramount for brunch. Well, kinda. We got there and the line was ridiculously long and not moving at all. Not only that, but it turned out to not be a brunch place at all! So we ditched and met the pledges on their journey and ate at Panera instead. It was a lot of fun joining them for their journey. After sticking with them for a little we ditched in order to get changed for initiation that night. Before heading out to initiation I grabbed a 20 piece chicken nuggets and had a field day stuffing my face. Initiation was epic as always and then afterward we all went to Inbound Pizza. The pizza was not the best, but was pretty good.
The final day we went to Tavern in the Square for brunch aka TITS. One of the alumni, Sam Brinton, and myself decided that it was required that we show up in heels! So I donned my heels and trekked over to TITS and had brunch. I felt at home as even in a sports bar everyone was super welcoming and the girls were admiring my booties. The brunch itself was also phenomenal! I ended up eating WAY to much, but it tasted so good I couldn't say no! And it was all you could eat. It was a failure waiting to happen.
All in all I loved Boston and can't wait to go back. A couple weeks after I left Boston had the unfortunate events that took place at their marathon and all the subsequent events. My heart goes out to all the victims and their families, but knowing how amazing Boston was and how friendly everyone was and helpful, I'm very sure Boston will be back up and running in no time and be stronger than ever before.