Indianapolis was actually significantly more fun than I thought it would be which is weird for a Midwestern state. I went there and stayed at the hostel called Indy hostel which was actually super cool. I met a girl from New Zealand who is doing her post-grad in farming/agriculture and was visiting farms around the world to do her research! She was going to be away from home for over a year apparently! Talk about crazy long. My trip is only 4.5 months long and I'm wondering how I'll be able to handle it!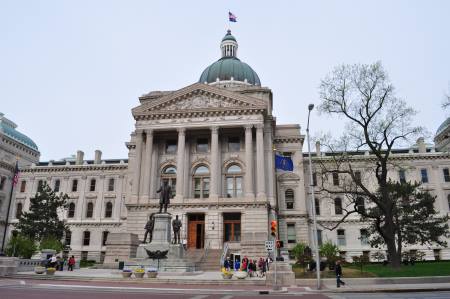 The main reason I came to Indianapolis was to see the capitol of Indiana. The capitol was modeled after the US Capitol which thus made it look very similar to Georgia's state capitol. It was actually kinda eerie to walk through there, but it was fun. The capitol was very nicely decorated and was fun to walk around .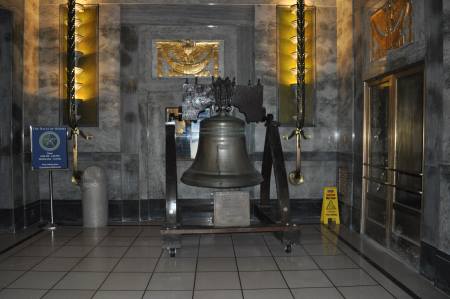 The liberty bell was slightly more difficult to find for Indianapolis! I had to walk to the World War monument which turned out to be closed. If you notice though, I still have a picture of the liberty bell though! It turns out that even though the monument was closed, the building was open for people who worked there so you could still technically walk in, you just couldn't get past the main corridor. Luckily the liberty bell was in the main corridor so I snapped a picture and ran before security caught me. Obviously they didn't care cause, let's not lie, I can't run that fast and security would have caught me in no time. By being able to walk around Indianapolis though I got to get a feel of the city and it was really cool. I actually enjoyed Indianapolis.
Later on I went up to SoBro which is apparently the hip place to be in Indianapolis and I met up with one of my old coworkers! It was super cool running into him. We got to catch up and I got to see his gorgeous house which definitely did not cost nearly as close as to what I thought it would since my brain is still stuck on California prices. We also had sandwiches at Taste Cafe which was really nice. I ended up having 'The Veggie' sandwich which was pretty good. Probably not the best I've ever had, but pretty high up there. Shortly after lunch, I departed for my next stop, West Lafayette!