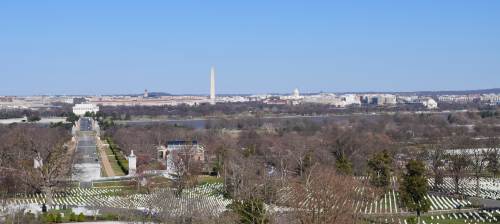 Washington, D.C. is the capitol of the entire nation. Figuring I'm visiting every state capitol it made sense to visit the country's capitol as well. Luckily one of my fraternity brothers (Josh Powell) lives here so I got to crash at his house! Once I arrived in town the first thing we did was go eat. We went to "Not your average Joe's" where I had rosemary skewered scallops which were delicious.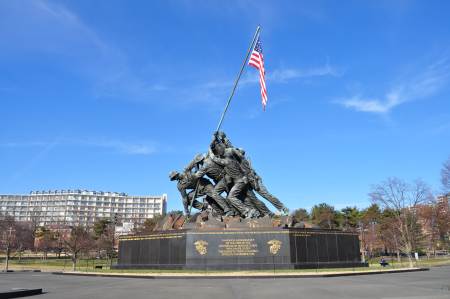 The next day I began my journey by heading off to the Iwo Jima Memorial aka the Marines memorial. It was so cool to see the memorial! Right next to the memorial was a carillon donated to the US by the Netherlands. It was so cool to look at. I liked it better than the Marines memorial I must say. We then headed into town and I saw the Albert Einstein memorial. It was really well made. Definitely one of my favorite memorials.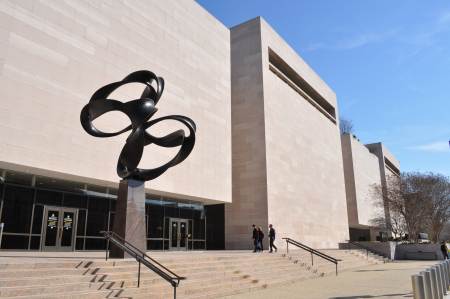 After the memorials Josh and I headed off to the National Air & Space Museum. This museum was epic! It had a replica of the first wright flier and also had the apollo 11 landing capsule. Not only that but it had a moon lander! And no, it wasn't a replica!!! They had an amazing exhibit on telescopes and also had a full-size replica of the hubble telescope. It was a lot of fun and could have easily taken 2 days to see everything. After leaving the museum Josh drove me to the Theodore Roosevelt Memorial which was cool to see. His sculpture is in the middle of an island and it was fun to walk around the island.
The next day was my Pentagon tour! I jumped on the Washington metro and headed out. I timed it so that I would arrive over 30 minutes before my tour just to make sure I got there in time, but unfortunately the metro had another plan. Washington metro turned my 25 minute trek into a 75 minute adventure. It caused me to be 15 minutes late to my tour and thus I missed my tour. I'll have to wait until sometime in the future to see it I guess...
In order to not waste time I jumped back on the metro and took the 6 million hour trek to the National Museum of Natural History. There I got to see the Easter Island statue and the hope diamond. They also had an amazing collection of gemstones and other random artifacts. They had a fun exhibit on volcanoes and a somewhat inaccurate exhibit on the solar system (Pluto hasn't been a planet in years!).
After this trek I decided to stop and have some lunch at Ben's Chili bowl which apparently was where President Obama had lunch one day. I tried their chili dog and their chili cheese fries. They weren't the best on the planet, but they were ok. Worth going once I guess.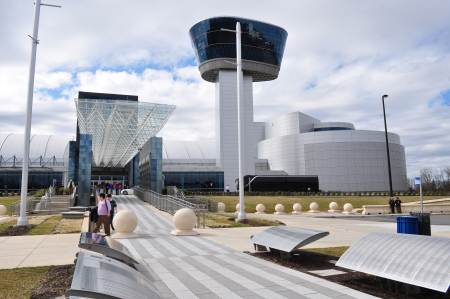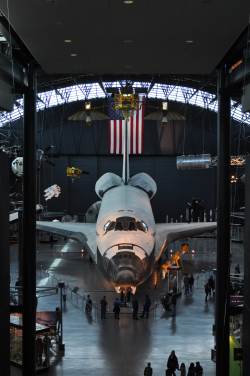 The next day I went to the Udvar-Hazy center which houses a bunch of airplanes and the infinitely amazing space shuttle discovery. I got to see one of the first concorde's ever made, a blackbird and also the Enola gay (the plane that dropped the first atomic bomb). It was super fun as they had public tours every so often, but the tour I was on turned into a private tour since everyone else disappeared. The tour guide and I hung out for 2.5 hours and saw the whole museum. He showed me how a piston and jet engine worked and how he used to be in the air force.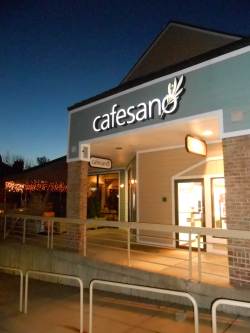 That night Josh took me to an amazing restaurant called Cafesano. I had the 'Del Mar pizza' which is basically a shrimp pizza with garlic sauce as their base. It was so good! I also tried their appetizers since it was a greek place and it sadly was horrific. The hummus was so bad that I couldn't eat more than 3 bites, and the babaganoush was just ok. The grape leaf was from a can. The pita was the best part of the appetizer, but it's harder to screw up pita bread. After Cafesano we went to a gelato place called Pitango Gelato. I had hazlenut and black tea flavors! It was so nommy! I definitely would go again... and in fact I did!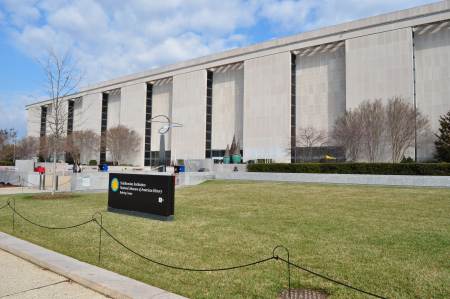 The next day was the National Museum of American History which was much cooler than expected. I got to see the original ruby slippers, the original kermit the frog, a stradivari cello, and the original outfit for Daniel Radcliffe in Harry Potter! I also enjoyed seeing the inaugural dresses for most of the first ladies and also the star-spangled banner flag that helped create our National Anthem. The museum also had an amazing exhibit on food (had one of the first wines ever made in CA!) and also Julia Child's kitchen!
Of course I also took the time to check out some of the memorials. I saw the memorials of: Thomas Jefferson, Franklin D. Roosevelt, Dr. Martin Luther King Junior, Abraham Lincoln, and World War I. My favorite of the memorials was the FDR memorial, but that's mainly because I personally love FDR.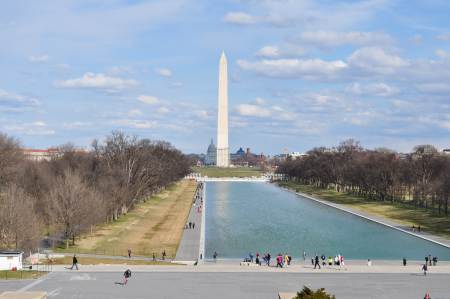 That night Josh and I met with his friend Stephen and we went to Jackson's Mighty Fine Food & Lucky Lounge for dinner. The food was pretty amazing! The bread that came to us in the beginning was kind of amazing and we also threw in deviled eggs as an appetizer since I heard it was really good. The eggs turned out to just be nice unfortunately. My main course was the sauteed shrimp and chicken which was pretty good. After all the bread I ate only part of my main course, but of course we had to have dessert! We went to Pitango Gelato again and this time I had their chocolate milk which was a dark chocolate drink. It was so good!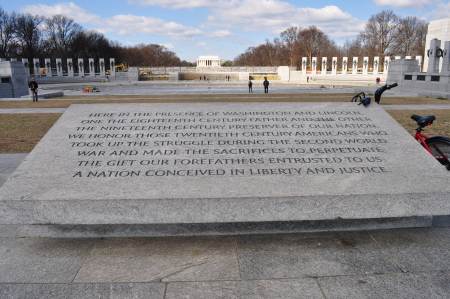 The next day I did a few more memorials (Korean war, Vietnam, 56 signers of declaration, WWII and 2nd division) WWII was nice and big and had an amazing location. It was located right in between the lincoln memorial and the washington monument. It was placed there since it was the biggest thing in the 20th century (Washington was the 18th century and Lincoln in the 19th). Kinda cool concept.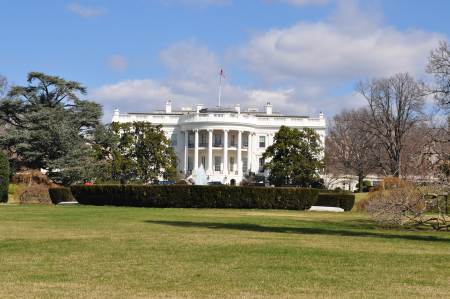 After the initial run of memorials I went and saw the White house! It was fun to see where our president lives. I originally had a tour scheduled, but due to sequestration the tour was cancelled (yay! #sarcasm). After looking at the capitol (there isn't really much to do other than stare...) I headed off to walk around town. I stopped quickly at a coffee shop called Bolla where I had a cup of tea and an almond croissant. It was a nice break after all my walking.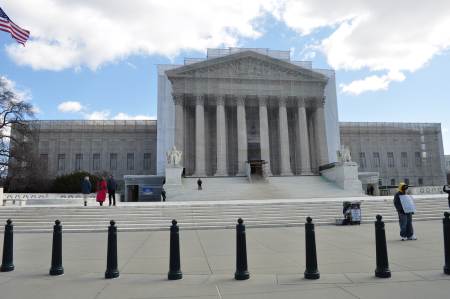 After Bolla I started walking toward the Supreme Court of the United States (SCOTUS) and on the way I ran into the Ford Theatre! That was where Lincoln got shot. I quickly ran inside to check it out, but unfortunately they were out of tours so I kept heading off toward SCOTUS. SCOTUS had an amazing tour and it was a ton of fun to walk around the court room where so many amazing decisions have been (and will be) made. The building itself was gorgeous and mainly constructed out of Italian Marble.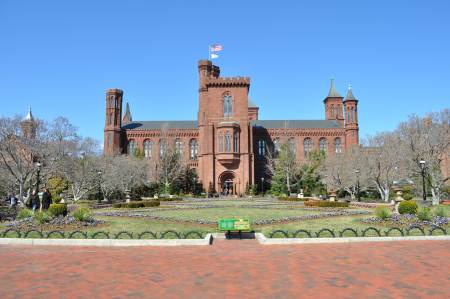 After SCOTUS I headed off to check out more of the city and I stopped to see the Smithsonian Castle. Turned out the castle only has information on the other museums so I walked in and fairly shortly thereafter walked out. I thus continued walking and found a few more memorials (Navy - merchant marine, Lyndon B. Johnson, 4th division, Women in Military, Robert E. Lee)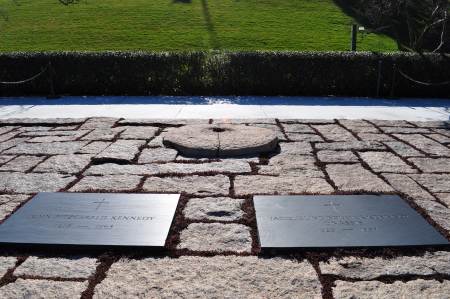 The last memorial was inside of Arlington National Cemetery and very near the picture I have presented above. The Arlington House (aka the Robert E. Lee Memorial) is an amazing place to get a beautiful view of the cemetery and also the city whole of Washington DC. I sat there for a few minutes and took a gaze at everything. The picture at the top of this article was from there. The cemetery was where the Kennedy's gravesites are. It was cool to see their gravesite and also the flame behind their headstones that are eternally lit. The second 'eternal' place I went to in the cemetery was the tomb of the unknown soldier. It was eternal in the sense that it always has a military personnel present in order to protect it. I got there right as they were about to do the changing of the guards which was really cool to watch! The tomb itself was pretty nice as well.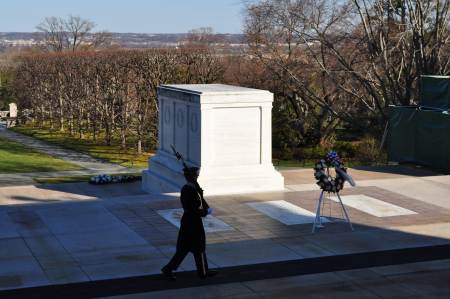 That night we ended up going to Silver diner for food which was pretty good. I had the salmon which was probably fairly good for a diner. It was a little undercooked on the inside and the flavors were slightly off, but still fairly good. I had a side of chili with my meal which was exceedingly fun. Why was it fun? Because I found a chunk of cellophane! I was chewing through my chili and felt something rubbery so I took it out of my mouth to find out it was cellophane. I personally didn't care since accidents happen. We all make some mistake at some point so whatever, but Josh wouldn't have any of it and immediately asked for the manager. We ended up getting a free meal out of it, but it embarrassed me as all hell =/ We ended up having dessert as well which I really shouldn't have since I was already full from dinner, but the fudge decadence was calling to me! Chocolate + caramel always gets me.... So I ended up eating the whole thing and it tasted phenomenal even if the brownie was dry. (How do you get a brownie to become dry when it's sitting underneath ice cream?!) All in all it was a decent place. Just chew carefully.
The next day I headed off to the capitol building for my capitol tour. This time I decided to plan to get there an hour early considering the issues I ran into with my pentagon tour. By the end of everything I ended up inside 20 minutes before my tour. (Why is Washington so inefficient?!) The tour itself was completely and utterly pointless. There were so many people and each tour person had 40+ people in their group with about 5 groups going every 10 minutes. That is just way to many people to shuffle and make it an actual learning experience. In order to hear the tour leader we were given a headset which barely worked so half the time you couldn't hear what he was saying. We only got to see 3 rooms (the crypt, the dome and the old House room). Nope, we didn't get to see the old supreme court room, the old senate room, we didn't get to stay in the dome room long enough to get decent pictures, we weren't allowed to depart from our parties to take pictures. It was so pointless I still kinda can't believe I wasted 3 hours of my life for a 30 minute tour. Boehner should have just cancelled the tours like Obama did with the white house...
After that whole debacle I decided to walk over to my representatives office building (Yay Pelosi!) and checked out her office. I even got gallery passes so I got to go and see the House of Representatives in action! They were voting on HR 803 which seemed like a minnimum wage bill, but it was so confusing. I sat next to some guys from Toronto and explained how things worked and showed them some of the more well known representatives such as Pelosi, Bachman, and Ryan. It was super cool to see them in action.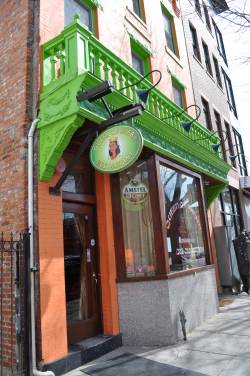 After the whole capitol funness I was starved so I headed off to one of my favorite bakeries on the planet! Yes, on the planet... Paul makes the best pastries hands down. I went there and had a mini croissant and a Gourmandise which were both amazing. Of course I still wanted something more substantial so I went to Queen of Sheba since I had been craving Ethiopean food for forever! I sat down and had the Difin Misir Lentil which was phenomenal! It was slightly bland, but that was half expected considering American dishes tend to have soooo much flavor it was nice to have something on the more subtle side. The lentils were so good and I ate so much I started falling asleep on the table. I didn't even finish the bread! In fact I had enough bread left over that the waitress asked if I wanted more lentils to help finish up the bread! The service was that awesome. I said no considering I was already so full, but I did grab another cup of tea.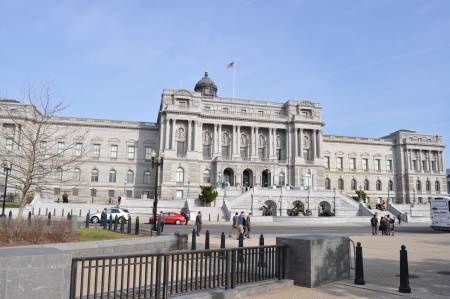 After eating so much I walked down to the library of congress. Can I just mention how amazingly epically gorgeous the library of congress is? Cause if so then I would and then some! This was quite literally the most gorgeous building in DC. It competed with the Basilica in Saint Louis. It was just marvelous! The sheer size of their collection was also mind boggling. This place made me want to go back and peruse some math books. Something tells me that if I have some time I'll be spending some time in this library sometime in the future. They even had one of 3 copies of the original Gutenberg Bible! So freaking amazing.
After the library I headed off to the National Museum of American art and Portrait gallery. It was really cool to check out! I saw so many famous paintings it was super slick. I saw the Warhol of Marilyn Monroe and also the infamous piece of Benjamin Franklin and also George Washington. My favorite part of the museum was the Lincoln gallery on the top floor which housed the modern art section. Those pieces were all epic! I though they would be boring and dumb like usual, but most were really nicely made and thought provoking. I only wish I had more time to check them out!
After that we headed off to Busboys & Poets for food out in Arlington, VA. The food was so good and perfectly proportioned! It came in Aram size which was nice cause that meant I didn't over eat. I had the Orzo Pasta which was phenomenal. I also had some tea and accidentally spilled the water everywhere. The exact opposite of yesterday apparently.
The next day we went to my first breakfast place: Amphora! It was a greek place that did pretty good breakfasts. I stole some of Josh's White Chocolate pancakes and was immediately jealous (So good!). I personally had the greek pocket which was a pita bread and scrambled eggs on top. I added gyro meat just to see how it would taste. Our waitress was crap though. I asked her if the eggs came inside of the bread or on top of and she said they came inside the pocket. When the dish came out a) the eggs were on top of the pita and b) the pita had no pocket. Major failure! If you don't know a dish you don't pretend to know. She should have said "I don't know, let me check for you". I'm ok with her not knowing, but I'm not ok with her lying to me. The food itself was just ok. I decided that gyro was not the best mixed with eggs, but they were ok.
After breakfast we went to the Goddard Space Flight center which was pretty fun! They had a small exhibit that I perused. The only issue was that they hadn't updated the exhibit since 2007 which meant it was stupidly behind. They even mentioned pluto as a planet! The funnest thing was that when I mentioned it to one of the staff they said that since Pluto is a dwarf planet that means it's still a type of planet so then it's still correct. I then pointed out that that means they are missing Ceres, Eris, and other dwarf planets. She was in a losing battle and just closed her ears at that point so I gave up. It was still a pretty cool exhibit to see.
After that we went to my fraternities first initiation site! It was so cool going down the trek and seeing where it all began. We also ran and saw the Armenian Embassy. I took a couple of pictures then had to run cause the secret service was looking at us weird. It was fun to run around downtown.
The next day we went to the International Spy Museum which was a ton of fun! The way they setup the museum was really well done and it was a joy to walk through everything. They even had a program called 'Operation Spy' where you got to pretend to be a spy. That was super cool! If you're in town I highly recommend it. Get there early though as there will likely be a line to get in. For lunch we went to Paul again and then met up with the Alpha Chapter for dinner at Nandos followed by dessert at Paul again! Nandos is amazing as well! They are a Portuguese chain that does grilled chicken. It is one of the best places I have ever tasted for grilled chicken and was so excited we got to go there for food.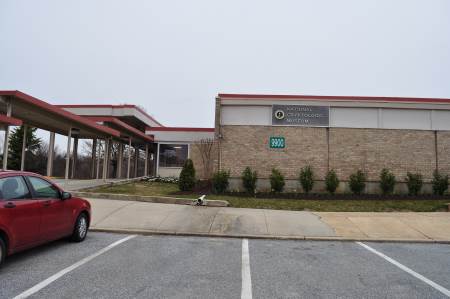 The final place I went to visit in the DC area was the National Cryptology Museum! It's on the grounds of the NSA which got me super excited. The museum itself was phenomenal. There were enigma machines galore and also a ton of machines from other nations such as the red machine from Japan. It also showed how we used to encrypt voice in the old days by adding white noise on top to make it sound like our voices were white noise and then remove the white noise at the destination. It was super cool to see how everything. They also had docents to walk you around and explain things. The docents are really well informed and although they don't understand the full mechanics/mathematics of everything they did a very well job explaining everything.