New Orleans! The city of Mardi Gras and the city I was stuck in until my car was repaired. Luckily the city did not fail to impress!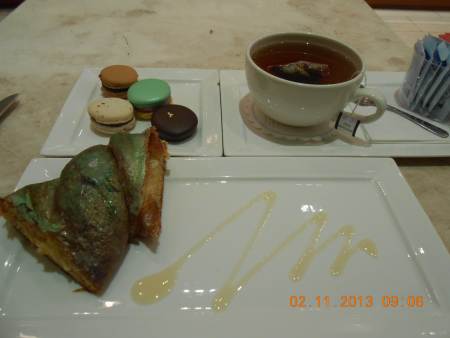 The best part of New Orleans is definitely the food! The first morning I was there I headed off to my first brunch at The Court of Two Sisters. It was a traditional New Orleans Jazz Brunch which was a lot of fun. I got to eat as much as I could handle and I got so much tea it wasn't funny. I had turtle soup for the first time and also my first cajun omelette. The food was spectacular and a few of the dishes melted in my mouth so amazingly well that I near fainted. I also ran into my first trial with King Cake! King cake (the shiny cake pictured above) is cake that you normally back before Mardi Gras and will traditionally have a toy baby inside of it. The person who gets the toy 'wins' so to speak (either good luck, has a baby, etc.) I followed this by going to Sucre the next day for breakfast where I had King cake as well since Sucre is known for their king cake. I also had 4 macaroons (pecan, almond, chocolate caramel, and king cake [of course]) and tea. Sucre was epic amazing and super highly recommended. I also had beignets at both Cafe Beignet and Cafe Du Monde. Monde had good beignets, but Beignet stole the show! Beignets are french donuts in essence and Cafe Beignet was epic. They melted in my mouth and I wanted more than just the 3 provided.
Pastries were not the only thing I ate while in town though. I also went to the infamous Domilise's for some po-boys which are amazing. You have to get the shrimp with roast beef and swiss cheese #heaven. The day after Mardi Gras I went to a place called Herbsaint which was supposed to have the best gumbo in town. The gumbo wasn't that good, but the rest of the food was epic amazing although I don't know if it's worth the prices that I ended up paying. After dropping \$60 on one meal, I decided I needed to cheer myself up so I went to Angelo Brocoto's which is known for their cannellonis. I ended up having a cannelloni, an almond fig, and also a pralines gelato, oh and some tea. It made me happy and the cannelloni was amazing. Definitely worth it.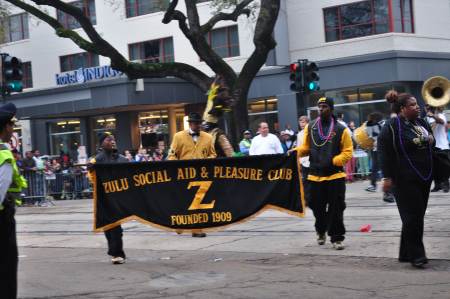 Of course Mardi gras is not about the food, it's about the parades! My first parade was Monday night and was the Krewe of Proteus parade. They were super cute and a lot of fun. My next parade was the Krewe of Orpheus parade which was a lot more fun. I ended up meeting this gay couple which showed me the traditions of Mardi gras and showed me how to properly get beads. My bead intake increased exponentially with their help! Orpheus turned out to be my funnest parade mainly because of these 2 gentleman. I didn't see them again, but they are forever etched in my memory by the beads they gave me as a token of welcome to the city.
Tuesday morning was Mardi Gras day itself and I got to the parade route at 7 am. The first parade was by the Krewe of Zulu (pictured above). They were one of the first all black Krewe and they were epic fun. They gave away so many beads it wasn't even funny. Not only that, but they give out coconuts to those who are 'worthy' and it's a massive prize to be able to get one. In fact the people standing next to me (although they were jerks, they were smart) had a net which they shoved in the parade people's faces in order to get their attention and get coconuts. He ended up getting roughly 20 coconuts whereas everyone around him didn't get any because of his net (fairly selfish, but smart like I said). I was super nice regardless and the guy ended up giving me a coconut in exchange for 20 beads. I figure it was worth it since I was just going to let go of the beads anyway.
The next parade was the Krewe of Rex parade which is one of the oldest parades in town. They didn't give away as many beads, but the floats themselves were more gorgeous. I didn't get many beads with them either, but the kids around me did which was nice cause in the end giving to the kids were more fun. It seemed a fairly family friendly event with most people trying to catch presents in order to pass them off to the kids. I think I handed off 3 of the stuffed animals I got to kids and a good chunk of beads.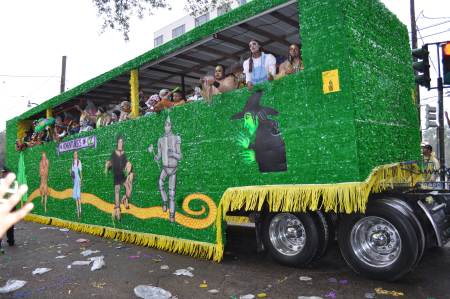 Afterward I walked around Bourbon street which was somewhat fun. Everyone was the traditional drunk and crazy that you traditionally think of New Orleans Mardi Gras as. There were guys on balconies (\$20 to go up) throwing beads to women below. When you got into the gay part of the french quarter it was guys throwing beads to guys. One guy tried to get me to show my nipple... I quickly ran away. Why show my body when I already get beads without needing to? Made no sense to me, but most of them were doing it, but to each their own I guess.
In the end New Orleans was a lot of fun and I can't wait to go back. There is still tons of food that I want to try and tons of places still to check out. It would also be fun to see the city without the craziness of mardi gras.