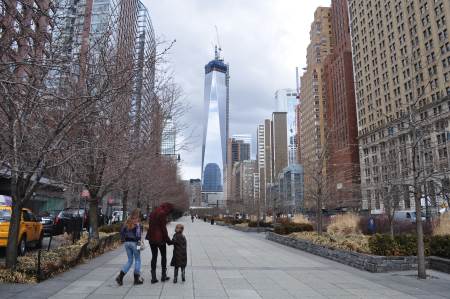 NEW YORK CITY!!!! The first city in my travels that I would actually consider moving to. So much to do, so much to see, and a plethora of excitement. It was all sorts of amazingness and there is still so much to explore. I can't wait to go back!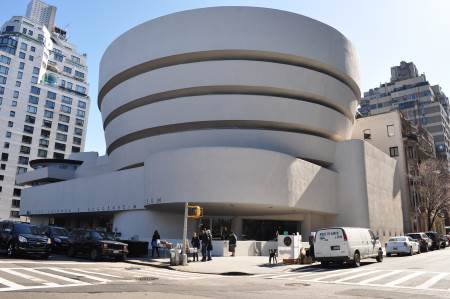 The first thing I went and saw was the Guggenheim. I went with my brother Brendon Wall and we saw the exhibit that was currently active. The current exhibit was called 'Gutai: Splendid Playground' and was basically all the art that came out of Japan right after WWII. It was actually really cool to see the amount of abstract art that came out as the artists were trying to make sense of the world. Considering that most of Japan was basically in shell shock due to the atomic bombs it was a really cool experience to see all of the art that came out during that time. There were pieces that made no sense, but were still amazing to just stare at. One of their exhibits was this system of bells where when you pressed a button the bells would go off one at a time. The bells were spaced throughout the museum and so if you pressed the button that turned on the bells it would ring bells throughout the Guggenheim. Brendon and I found out that anyone could press the button so we went to where the button was and waited. They only allowed 1 person to press the button every 40 minutes. We waited 26 minutes until the next allotted time and I was allowed to press the button. It was so cool! Above the button was a sign that read 'Please press the button'. It was fun hearing the bells echo throughout the museum. The different pitches, frequencies, locations. All pleasing to the ear. Their permanent exhibition didn't really keep me entertained as the style of abstract art didn't appeal to me, but it was ok.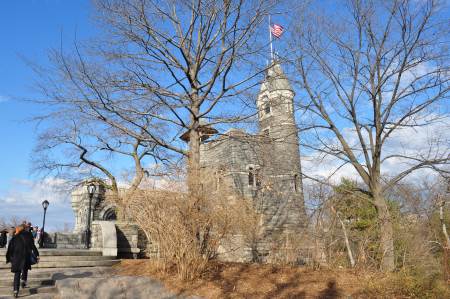 After the Guggenheim we walked to Central Park which was right next to the Guggenheim. It was fun to just peruse the park and get a feel for it. Central park was actually designed by a person which is kind of a weird concept. I'm used to parks in California where they are more or less just allowed to run free, but apparently the parks in the North East are very structured. It was super cool! One of the places that Brendon took me was to a place called Belvedere Castle where you're allowed to climb to the top and have a view of all of New York City. It was a nice view and fun to see all of New York from up there. Apparently Belvedere Castle is also where the meteorologists get their information for the weather when pertaining to New York City.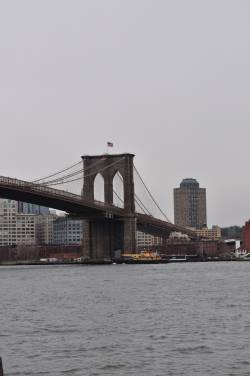 The next day I decided to walk through the downtown area and ran into some familiar places! I first saw the Brooklyn Bridge which was under construction. I don't know why it was, but I assume it was due to Hurricane Sandy which is not so much fun. It seemed a lot of New York had been put on hold due to the Hurricane, but it was nice to see that they were slowly building and moving on. The whole area just south of Brooklyn Bridge was closed off and all the stores were closed. The area was a ghost town which was weird considering how busy New York City was normally.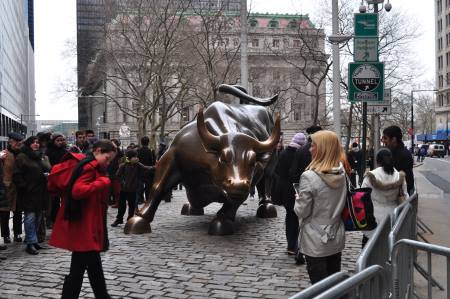 After walking around I stopped at this place called Cafe Bravo in order to charge my phone. The prices were kind of ridiculous! A simple salad seemed to cost a minimum of \$11, and that was before you even added anything to it. I was so glad I didn't pay financial district prices for anything! As I walked around lower manhattan I ran into the NY stock exchange and also the famous Charging Bull statue. There was a massive line just to take a picture in front of the statue so I decided to just take a pic and run. Didn't seem worth waiting in line just to see something that I could easily find online.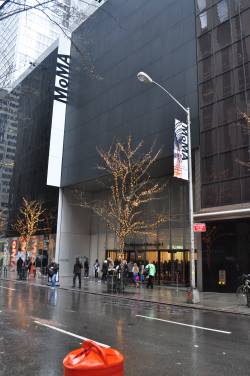 At this point it started to rain so I decided to head indoors. I took the subway to MoMa and waited outside in line for 45 minutes just to get in. Yes, it was kind of ridiculous, but the museum seemed small so I was ok with it. MoMa was actually more fun than I thought it would be. They had Piet Mondrian pieces which made me super happy. They also gave out free audio guides which allowed me to learn more than I normally would have. They had an amazing exhibit in the architecture section and also their design exhibit was phenomenal. They had a whole section on video games and also on new designs of common things. They had a table that was designed for earthquakes so that if something fell on it, nothing would happen. It could apparently handle over 1 ton falling on it without it caving it. There was also this big ball looking thing that helped find land mines. It was super cool! I spent most of the day there even though originally I thought I wouldn't.
That night I headed off to see 'Chicago: The Musical' at the Ambassador Theatre! My first Broadway show ever! It was such a good show I near died. The acting was phenomenal, the dance pieces epic, the singing to die for. In fact I couldn't find any flaws I don't think. After watching a musical I just had to go to musical mondays at Splash! None of my friends could make it so I took myself out and went to Splash bar which was a blast. I sat and had a double vodka and sang with the musicals that were blasting on the screens everywhere. It was such a fun time! I would definitely do it again in a heart beat.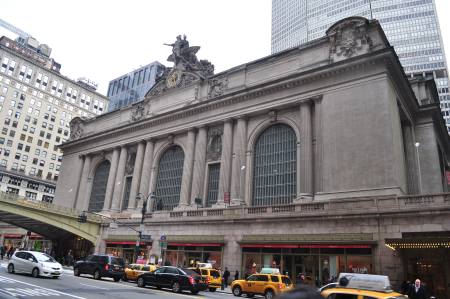 The next day I started my trek by going to Grand Central station which was the major hub for most of New York's trains. This is where I would pick up my train that would eventually toss me to Connecticut for an impromptu Easter trip thanks to my amazing brother James Kaechele! Grand Central was gorgeous and I loved just walking through. The coolest part was that in the main open area was a random apple store just sitting there. At first I didn't believe it was actually there, but as I walked into it, it was weird. Imagine an apple store, but instead of it having a door and walls it was just sitting inside of a train station with products everywhere. It was weird, but super cool.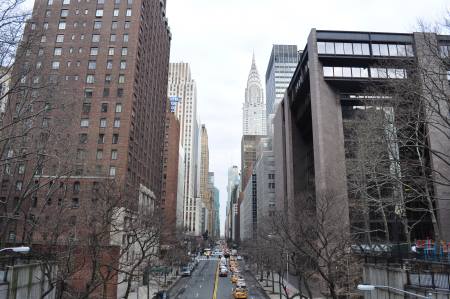 After Grand Central I kept walking toward the east and saw the Chrysler building. It was so gorgeous I had to take a picture from the park. I think the Chrysler Building was my favorite building out of all of them in New York. It was so beautiful and elegant.
After staring at the Chrysler building I kept walking and went to the United Nations building where I was given a tour of the premises. It was so fun seeing where all the dignitaries from many different countries meet in order to discuss global issues. The tours were very well presented and gave a ton of information. I got to see where Armenia and Iraq sit which was pretty cool. I also got to see where the security council meets which was epic. After the UN tour I went outside and saw the US Mission to the UN which was a pretty cool building.
After the UN part of town I decided to just randomly walk around New York City and see what I could find. I ran into Saint Patrick's Cathedral which was gorgeous! It was under construction due to Hurricane Sandy, but it was cool to see a church under construction of that magnitude. I also ran into Rockefeller square which still had the ice skating rink going around. The stores there were pretty cool and I ended up picking up candy from Teuscher Chocolates which was pretty good. After Rockefeller I walked by Radio City Music Hall which seemed like a lot of fun and walked up 5th Ave where I met up with my friend Griffin Parsons for a lunch at the 'Food Hall by Todd English'. The food there was pretty phenomenal. I had a sandwich which was really good and it didn't cost an arm and a leg. It was really nice. I also got to see the Apple store that is always mentioned everywhere, the one where it's just a glass building and the whole structure is actually underground. It was cool to see, but I didn't walk in since I had already seen an Apple store before.
After lunch I walked around 5th Ave and saw all the stores. I walked into Tiffany which nearly killed me although I did find their male selection lacking. I found out that lindt gives out free samples and allows you to buy one truffle at a time, so I bought one of six different flavors. It was pretty fun. I kept walking until I hit the Empire State Building and then I hunkered down and waited to have dinner with my friend Joe at Ippudo.
When I got to Ippudo there was an hour and a half wait so we put our name down and decided to walk around until our time came. While walking Joe took me to this place called Crif Hotdogs which had pretty good hotdogs (I had a bacon wrapped avocado hot dog... epic), but the cool part about this hot dog place was that it was actually a speak easy! Inside there was a phone booth that allowed you to go into a bar where you could sit and have a drink. It was super cool! Although we didn't go in it was fun to notice people walking in and out of the booth. After a long wait we finally got seats at Ippudo. Ippudo turned out to be an ok ramen place. It definitely wasn't the best tasting ramen on the planet, but the presentation was fun. The wait was definitely not worth it, but with an amazing friend around, it turned out to be ok.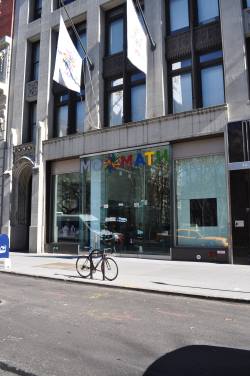 The next day I went to one of the museums I had been waiting over a year to check out, the Museum of Math! The museum was amazing beyond belief. I was having so much fun running around that I near died in happiness. They had so many cool exhibits that I didn't know what to do with myself. They had tricycles with square wheels, a magic squares section, and a geometric pattern board where you could make your own patterns. They also had a giant LED board where you could play games on the floor and all the kids were running around having fun with it. The amount of stuff in the museum kept me entertained for quite a few hours!
After the Museum of Math it was time to go have lunch! I walked to Chelsea Market which was a ton of fun. I ate a soup at Hale & Hearty which was amazing and then afterward decided to eat more! I went to Amy's Bread and had a cinnamon chaballah roll heated up which was phenomenal. I then walked over to Fat Witch bakery and had 2 different brownies, both of which were not very good. I was disappointed in their brownies and walked out and walked straight to doughnuttery for a donut. They don't sell donuts in just singular form, so I had to sneak away with a donut. There wasn't any sugar on it so it wasn't very satisfying, and truthfully it felt like even with sugar it wouldn't have tasted good.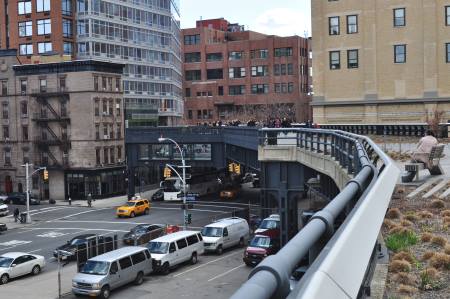 After all that eating I decided to take a little walk. Luckily, right next to Chelsea market is the high line which is a walkway that is above the streets of New York. It used to be a rail line that would deliver boxes from one building to another, but after trucks were invented they weren't used anymore. It basically turned into an above ground walkway and garden and is a gorgeous way to view the city. I had a blast walking around.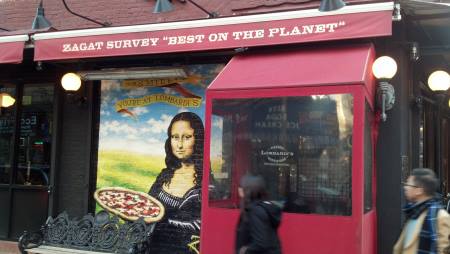 After all that walking I met up with my brother James Kaechele for dinner at Lombardi's which is supposed to be the first pizzeria in NYC. The pizza itself was pretty epic tasty. It was made in a coal oven which added so much extra flavor. The only thing I didn't like is that New York pizza is thin crust due to the high heat they use and therefore it loves to just fall everywhere. It made it a little hard to eat, but I ended up using fork and knife which made my life a lot easier.
After pizza James and I met up with all the other alumni of the fraternity in the New York area and went to Verlaine's for cocktails. The drinks there were oddly on the cheaper side and I had an amazing time catching up with all the alumni in the area.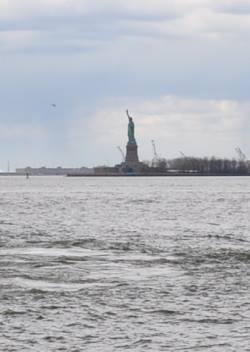 The next day I went to the Federal Reserve where I was scheduled to have a tour. The issue was that there was no one inside the building so I ended up just walking around aimlessly as I waited for lunch. For lunch I met up with Jesse who was an alumni I had never met before and we randomly chatted over lunch at GRK. GRK was a not so amazing greek place, but the price made it mildly worth it. Afterward we walked around and I got to see the Statue of Liberty which was kind of cool. We walked around until James showed up to give me his 'tour of gay New York'. While waiting I got to see the ferry station that would normally take you to the Statue of Liberty island which was closed because of Hurricane Sandy.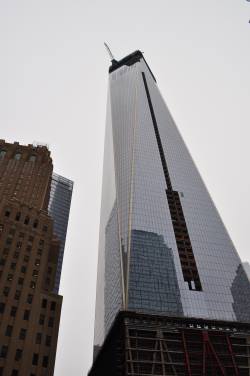 Once James showed up we started walking aimlessly around New York city which was fun. While walking we saw an amazing view of the World Trade Center. We also ran into some amazing parks which were a bunch of fun to play in. One of them even had a slide! As we were walking around it started sprinkling so we ran and found a starbucks to hide in until the rain went away.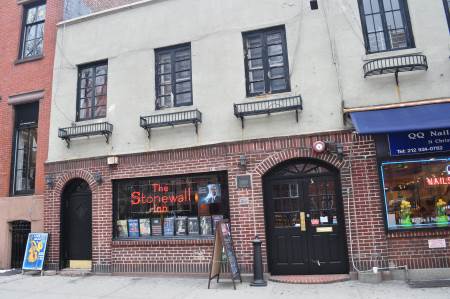 After the rain went away we went back outside and James started his tour of gay New York. He showed me Stonewall Inn which is where the riots happened. He also showed me a lot of the bars that were in the area and also the pier that used to be a massive gay hangout. We also walked to Washington Square park where James showed me where Anderson Cooper lives and also James' favorite tree.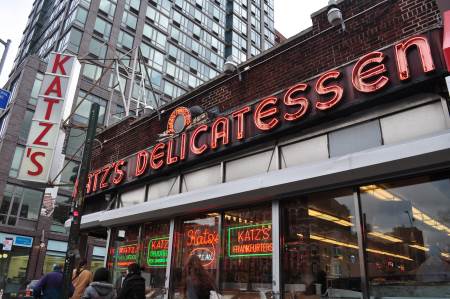 After Washington Square Park, I ditched James and headed off to Katz's Deli in order to have myself a pastrami sandwich. I had heard about this sandwich from my amazing friend Kristen Orlando. One bite into this sandwich and I was in heaven. The pastrami was so fresh and delicious I near died. Although it was super big which almost put me into a food coma which was not good considering my next agenda item.
After feeding my fat face I met up with Will Erman at Columbia University and I surprised him with tickets to Phantom of the Opera! Even though Chicago was amazing Phantom blew it out of the water somehow. The chandelier piece was amazing, and the way they handled the musical was phenomenal. We also had amazing seats so we got to see everything.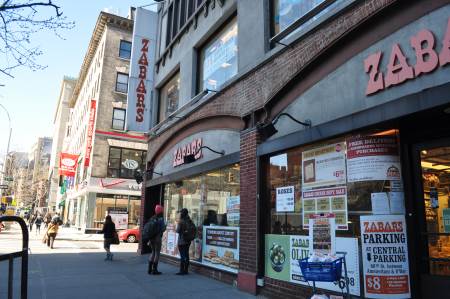 The next morning I went to Zabar's for breakfast as apparently that was the place I needed to go. I had a bagel which was phenomenal. I also had latkes which were also really good.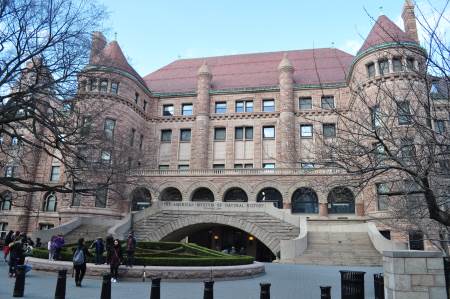 Already full from breakfast I walked to the American Museum of Natural History where I walked around and got to see as many of the exhibits as I could. The museum was so massive I decided I couldn't see it all even if I wanted to. I saw the show at the planetarium which wasn't amazing, but still kinda cool. I also saw the exhibit on Armenians which was pretty funny. Didn't know a museum would have a section on Armenians, but apparently this one did. The space section was also pretty good. When the museum closed I had maybe finished 10% of the museum. Definitely more to see on another visit. In the middle of the visit I met up with Mark McDermott to have lunch at Peacefood Cafe. Although I was still epically full from breakfast, I ended up having a quinoa salad which was to die for. Luckily it wasn't very big so I didn't explode from being overly full.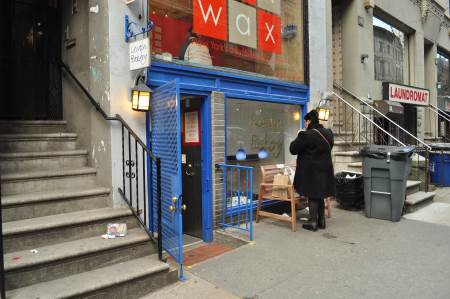 After the Museum of Natural History I walked to Levain Bakery where I had a cookie of my dreams. It was a dark chocolate and peanut butter chip cookie that was the size of my fist. I somehow ended up eating all of it and then proceeded to have a waffle from one of the food carts. I was on a sugar high of epic proportions. My plans for friday night fell through so I hung out with James and Jesse where we didn't end up doing much.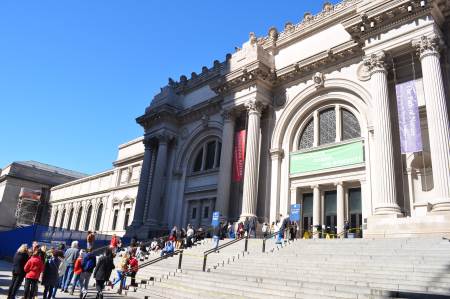 The next day I met up with Griffin again and we went to the Met which had some amazing exhibits! I was actually able to finish most of the museum even though I rushed through most of it. I got to see every part that I wanted which was super fun. I thought I wouldn't like the Met since it was mainly art, but I actually enjoyed myself. They had an Armenian bible from the 1400s which was super cool to look at. They also had a whole Islamic section which was fun to peruse. They also had a section where you could see models of old American houses and what they would have looked like. They also had a knights section and greek statues. This museum was also huge and would probably need a second or third visit in order to be able to read all about all of the exhibits.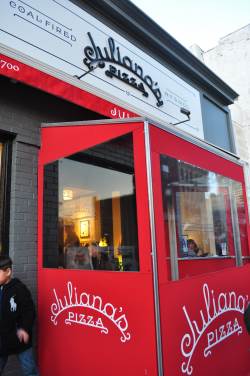 That night I went to Juliana's Pizzeria which was pretty phenomenal pizza. All of my friends told me to go to Grimaldi's so originally I went there. I stood in line for Grimaldi's and right next door was Juliana's. Why did I choose to go to Juliana's over Grimaldi's? Because Patsy Grimaldi, the person who created Grimaldi's, was the chef for Juliana's.... Apparently Patsy sold his company in the 90's and because he sold it they wouldn't let him back or something. So as a 'fuck you' he decided to open up his own restaurant right next door and named it after his mom. How was the pizza? Pretty freaking phenomenal. I think it out did Lombardi's which is hard to do!
After all that food I met up with Michael Dicato and we went to XL Night Club in order to see the World Premiere of Kazaky's latest album! It was so much fun and I ended up drinking more than I probably should have. I oddly didn't end up enjoying the premiere and we left halfway through at about 2 am. I think half the problem was that it was so late at night. Being a morning person makes it hard to watch night owl performances and enjoy them.
The next day I went up to Connecticut for church which will be detailed in a future post. When I got back from Connecticut I went to the Eugene O'Neill Theatre in order to see 'The Book of Mormon'. Remember how Phantom blew Chicago out of the water? Mormon blew Phantom out of the solar system. The musical was so amazing that I completely understood why it won so many awards! Even though I paid \$260+ for the tickets, I would do it again in a heartbeat.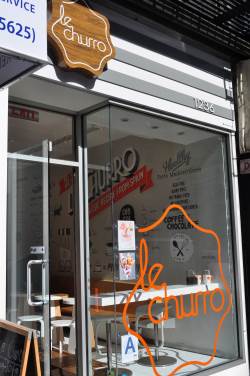 The next morning I went and had breakfast at Le Churro which was basically a churro boutique. Their churros were really really good! I had a chocolate covered churro and 10 mini-churros that were dipped in maple syrup. So good you wouldn't believe!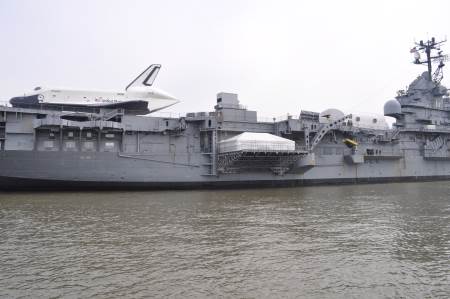 After filling my face with churros I went to the Intrepid sea, air and space museum. At first I didn't think I would be able to see space shuttle enterprise, but once I got there it was sitting there on the boat! It was cool to see it just chilaxing on a boat. The museum itself was mainly focused on sea stuff so I wasn't that into it since I'm not big on the sea since I get sea sick, but I got to see a blue angel plane up close which was cool. A high school band also came and performed on the boat which was pretty fun.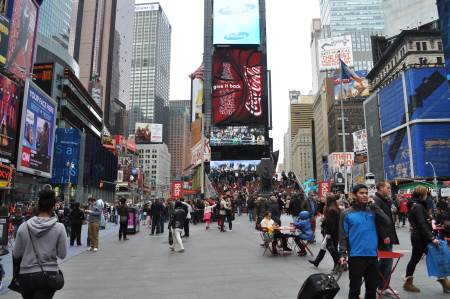 Afterward I walked to Amy's Bread again where I picked up a piece of bread to hold me over and kept me going as I walked through times square. I saw a Minamoto Kitchoan store that sells Japanese sweets and I just had to run in. I grabbed a mochi and ate it almost instantaneously. It was super delish.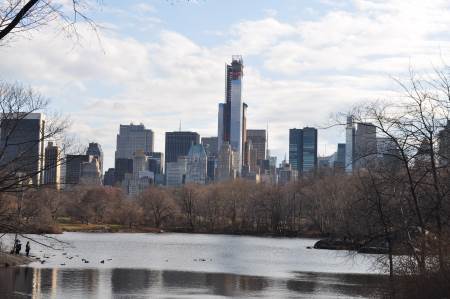 After that I picked up a couple souvenirs, grabbed my luggage and finally departed New York City to go further north. New York city was an amazing time and I can't wait to go back!